Svetlana Torba
Faculty of Art and Culture

Cultural Heritage and Conservation

ma
Who is depicted in Irina Bržeska paintings? Research, conservation and exhibition of Bržeska paintings.

Tutor(s):

Hilkka Hiiop, Irina Budrik
This Master's thesis focuses on the conservation of Irina Bržeska's painting collection from the Russian Museum of Estonia, research of the artist's biography, creative career and organizing an exhibition of the paintings. The focus of this work is to bring to light biography and creative paths of Irina Bržeska, the portraitist whose work deserves attention, but is undeservedly forgotten.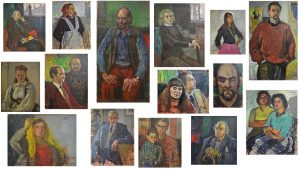 The portraitist Irina Bržeska created a unique collection of paintings during her career. There are over 250 Bržeska pieces in Estonian museums. Her paintings are also found in Moscow museums, but most of her works are in private collections in Estonia, Russia, Lithuania and the US. Very little has been written about Bržeska, and there are no catalogs, archives or documentation of his paintings. The only way to find out more about an artist who didn't care about fame is to find people who knew her.

The work began in September 2017. By now, descriptions of all 204 paintings from the Russian Museum as well as graphic documentation (topography and definition of all damage) have been compiled, 35 pieces were conserved. Several interviews were conducted with people, who had been portrayed by Irina Bržeska or who had knew the artist personally or indirectly, for instance Arvo Pärt and Mare Vint. The interviews provided key insights and overview of the artist's life and work.

Also an interactive online platform has been created to to engage with people who are in the process of exploring their own culture and heritage, while at the same time gathering more information about Irina Bržeska. The platform has information in two languages (Estonian and Russian) about the artist herself and the project in general. There is a picture gallery, where visitors can look through all of the Bržeska's portraits from the collection of Russian Museum, and if any person in a painting looks familiar to them, they can leave a comment under the portrait. At the time of writing this, 41 inviduals have been identified through the platform and people continue to write almost daily. It is expected that the number of individuals identified will continue to grow.

The highlight of the project is the exhibition of Irina Bržeska's paintings, which opens in Riigikogu in autumn 2020. The exhibition features 15 works from the Russian Museum's collection, conserved by the author of this master's thesis, as well as 5 pieces from other museums and private collections. The theme of the exhibition is well-known figures of Estonian culture, that should help present Bržeska as a reflector of the generation. Conservation of paintings is also an important topic that is discussed throughout the exhibition. The paintings formed a methodical l learning platform where, in addition to the techniques developed during author's bachelor work, alternatives were tested, for example, repairing canvas holes and priming.