Anna-Liisa Hanni
Faculty of Design

Product Design

ma
Development of Digital Platform Prototype for Sound-Absorbing Products in Open Plan Office Context

Tutor(s):

Merike Rehepapp
Acoustic design of an open plan office requires knowledge of the principles of room acoustics which in turn requires practical experience. It is important to know how the acoustic properties of a room affect sound quality. This master's thesis outlined the basic concepts and formulas of spatial acoustics that help to understand the process of sound absorption in space.  Sound-absorbing ceiling panels and partitions are mainly used in an open plan office. Materials used in acoustic solutions must comply with ISO 354 and ISO 11654 standards, which experimentally determine the sound absorption coefficient of a material. It is important to understand that an open plan office is only effective if the needs of employees are taken into account, noise analysis is carried out and employees are positioned so that they can work together without disturbing each other.
The aim of this master's thesis was to create a prototype digital platform that simplifies the selection of sound-absorbing materials for interior designers and where the necessary information about acoustic products is presented so that they can be compared. The interior architect appreciates as simple and comprehensible information description as possible, especially about acoustic data. It is also important for the interior architect that there are illustrative examples and that someone helps to choose the quantity of the product according to the sound absorption class without involving a separate acoustic. Acoustic materials and training opportunities are also important to the architect, which was also expressed in the survey. Therefore, the digital platform has a separate acoustic counselling centre, where you can find the necessary study materials, and through the chat, it is possible to ask the acoustic counsellor for product selection.
The digital platform prototype enables to:
Look for different acoustic solutions and compare them with each other;
Filter products according to the required parameters;
Sort products by price range;
See the main parameters in the list of products (based on which the interior architect makes the decision);
Click on the product to see detailed product information;
Click on the information icon to see the description of the parameter;
Find study materials on spatial acoustics and acoustic product selection principles;
Use the help of an acoustic consultant (chat) when choosing products.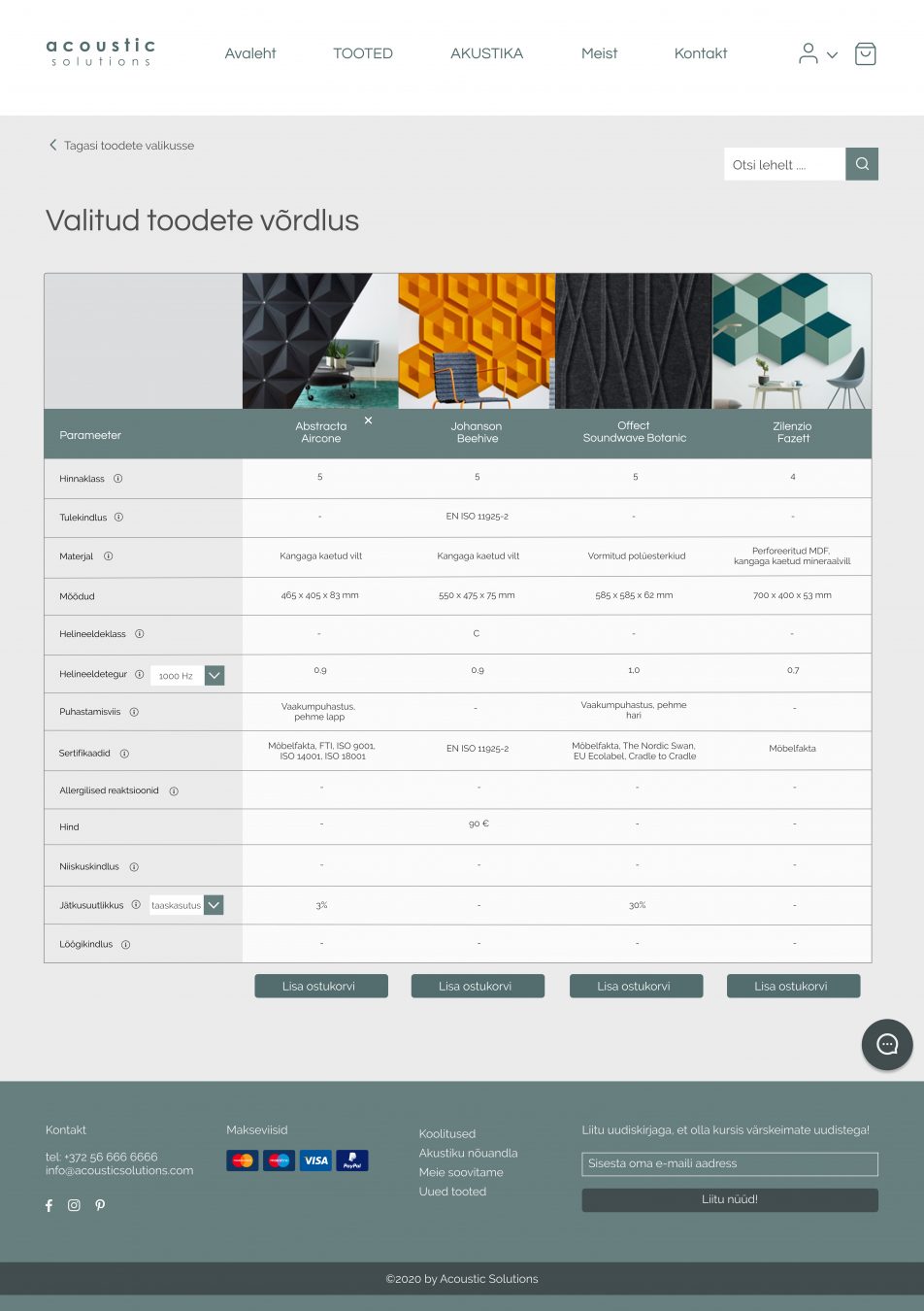 See more: